Liquid Medications
Liquid medications include products such as elixirs, solutions, suspensions, and syrups. These prescription and over-the-counter (OTC) products are mostly used for children, but may also be taken by adults who have difficulty swallowing tablets or capsules. Some medications are only available as liquids.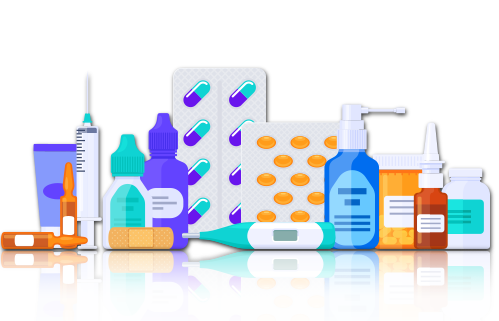 Do not confuse dosage instructions for teaspoons and tablespoons. A tablespoon contains 3 times the amount of liquid as a teaspoon and could result in an overdose if used by mistake.
Measurement of liquid medications
Be sure you know the exact dose and amount of liquid you are to use for each dose. For OTC products, use a child's weight to determine the dose, rather than one based on age, especially for young children.
Liquid medications are usually measured in teaspoons, tablespoons, or milliliters.
Read abbreviations used in dosage directions carefully. Abbreviations for teaspoons and tablespoons are similar.
| | |
| --- | --- |
| Liquid Measurement | Abbreviation commonly used |
| teaspoon | tsp |
| tablespoon | Tbsp or TBSP |
| milliliter | mL, mL, mLs |
This comparison shows how to convert a measurement from teaspoon/tablespoon to milliliters.
Liquid Measurement
1/2 teaspoon = 2.5 mL
1 teaspoon = 5 mL
1/2 tablespoon = 7.5 mL
1 tablespoon = 15 mL
Important Facts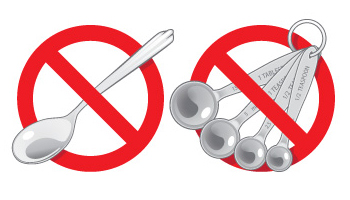 Never measure liquid medications with household silverware or tableware spoons used to eat or serve food. They are not uniformly sized and this will cause either too much or too little medication to be given. Household measuring or baking spoons also should not be used as the liquid may spill or it may be difficult for you to get the whole dose.
If you are told to take teaspoons, tablespoons, or milliliters (mL), always make sure you use a measuring device that is marked clearly with your dose.
Some oral measuring devices come with a combination of teaspoons, tablespoons, and milliliters (mL) markings. Make sure you ask your doctor or pharmacist which marking you should to use to measure your dose. You may find it easier to ask them for a device that only includes the marking you need.
Ask your pharmacist if an adapter for prescription oral liquid medications is available that can slow or limit medication access. These adapters can reduce the risk of poisoning in children.
Never allow a child to drink directly from the medicine bottle.
Dosing Spoon
Best for children who can drink from cup, but often spill some liquid. This measuring device may be good for children who use sippy cups to drink liquid.

Check for markings on the spoon that match the amount you need for your dose.


Droppers & Oral Syringes
Dropper and oral syringe [note oral syringe has a larger colored cap compared to a regular syringe. Best for very young children who cannot drink from a cup.

Best devices for measuring liquids because they make it easy to get the correct dose. However, they may not be available for your medication. Ask your pharmacist.

Check for markings on the dropper or oral syringe that match the amount you need for your dose.

NEVER use hypodermic syringes, only use only syringes made especially for oral use. Special adapters fit on the top of the bottle allow the liquid to be more easily withdrawn from the container with an oral syringe
Cup
Best for children (or adults) who can drink from a cup without spilling Check for markings on the cup that match the amount you need for your dose. Be careful when using cups that have a combination of teaspoon, tablespoon, or milliliter markings so that you use the correct fill line.
subscribe section background
Stay In The Know
Stay informed and get access to the latest news