Always use a proper measuring device. Use the device that comes with the medication. If one is not provided, ask your pharmacist for advice to pick the best measuring device. Measuring devices which come with a product should not be used to measure other medications unless your doctor or pharmacist tells you to do so. If you lost the measuring device that came with your medication, call your doctor or pharmacist for advice.
Step 1
Carefully pull up medication into the syringe to the correct marking. It may be helpful for you or your pharmacist to mark the correct fill line for your dose.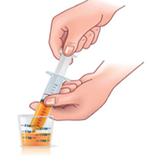 Step 2
Do not fill the dropper or syringe to the top.
Step 3
Be sure to tap out any air bubbles.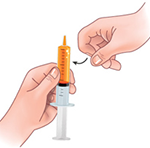 Step 4
Never squirt the liquid from the dropper or oral syringe directly onto the back of a child's throat. Carefully and slowly squirt it into the space between the tongue and cheek in small amounts. Be sure to take breaks to allow your child to swallow.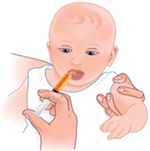 Step 5
Wash your hands after you have finished giving the medication and closed the bottle tightly.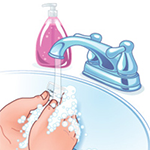 Share The Knowledge
Interested in looking to distribute this information? Send us a request!